Ubisecure Identity Platform
Individual ID & Organisation ID Management
IDaaS | On-Premises | Hybrid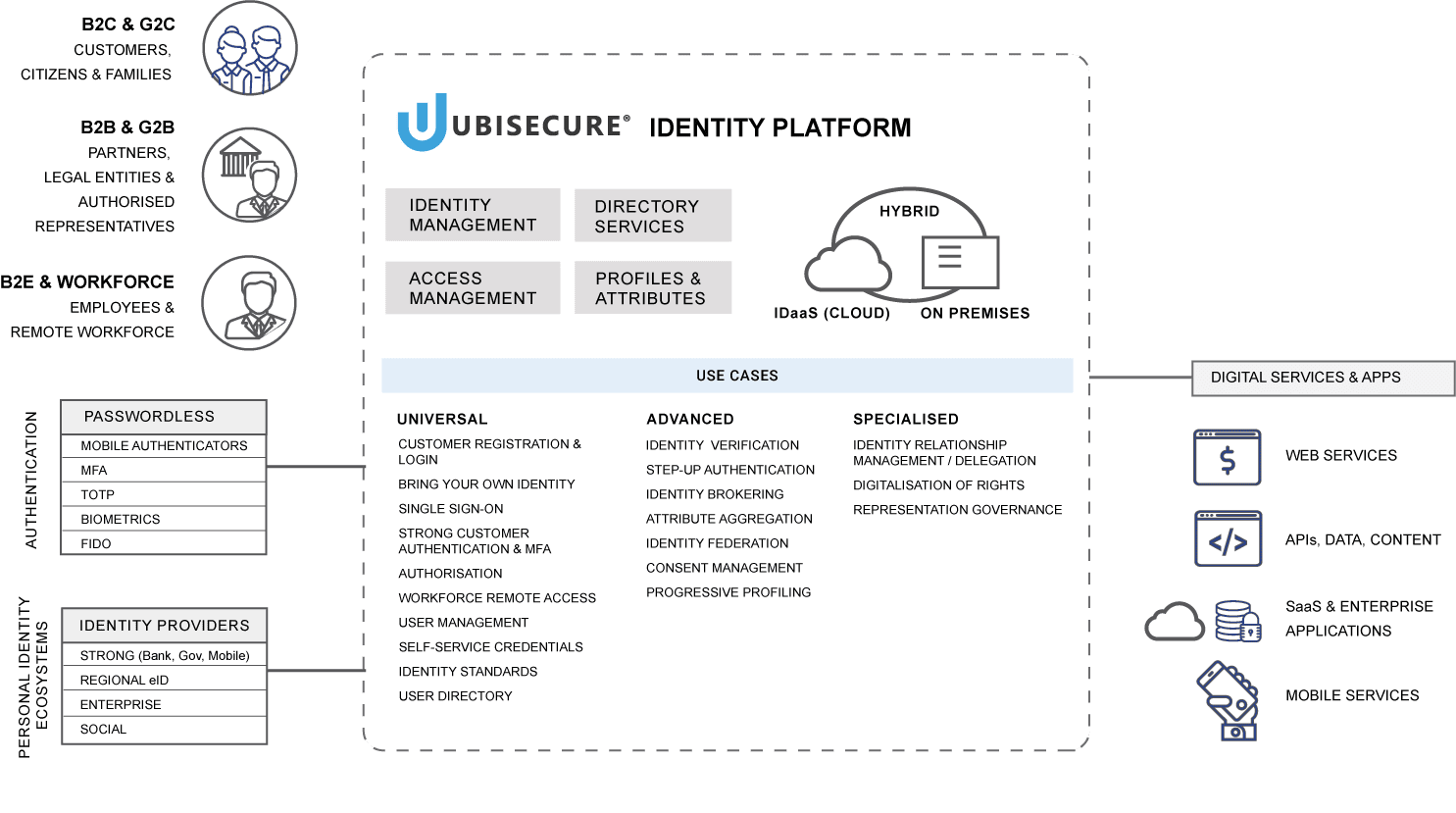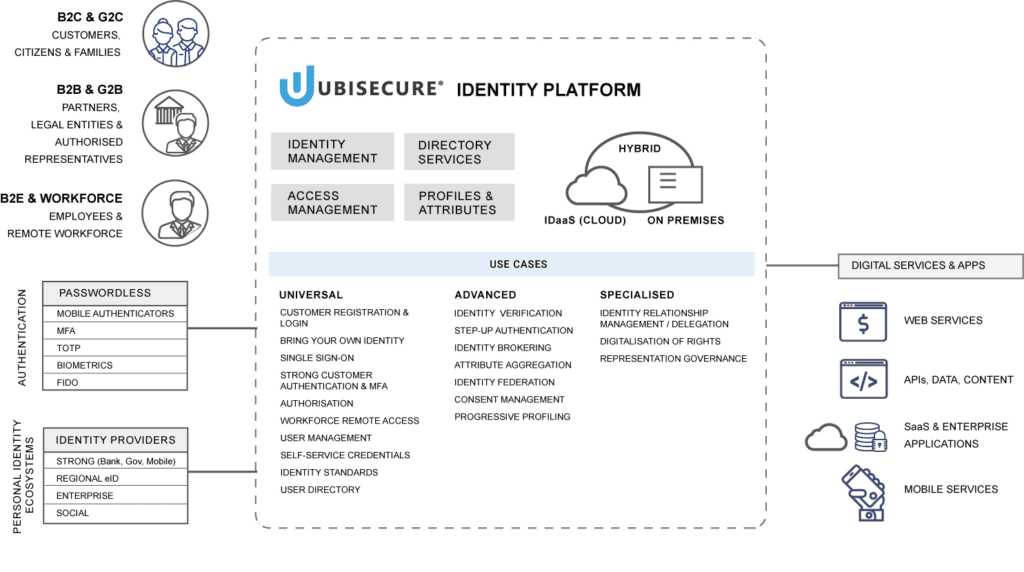 B2B & B2C User Experience
Simplify and improve how your B2B & B2C users engage with your digital services.
Simplified or automated user registration
Configurable best practice templates for registration and login, or complete customisation via API

Use existing reusable digital identities (verified/strong or regional eID, social login, professional, enterprise) for easy registration and return login authentication

Verification of customer's real identity

Automated registration based on contract information queried from connected CRM(s)

E-mail and phone number via SMTP and SMS verification
Identity federation and business networks
Business customers Single Sign-On (SSO) to services from their own corporate network

Federate client identities to support partner networks and build new business streams
Verify weak identities with a strong multi-factor method or link to a 3rd party digital identity in any defined context

Protocol translation, e.g. from SAML to WS-Federation and vice versa

Supported standards: SAML 2.0 (independently tested), OpenID, OAuth 2.0, OpenID Connect OIDC, CIBA, Mobile Connect, WS-Federation, TUPAS, ETSI MSS (ETSI TS 102 204)
Reusable Identity for quick registration and improved retention
Out of the box support for reusuable Identity Providers

Personal Identity Ecosystem – verified Individual IDs like BankID & NemID. Social IDs like Facebook, Apple and Amazon. Business IDs like LinkedIn and GitHub

Organisation Identity Ecosystem – verified Organisation IDs like Legal Entity Identifiers

New providers quickly added via Authentication Adapter microservice

Reduced PII risk

Simplifies initial registration and returning logins
Single Sign-On (SSO) across all connected services
Single identity for multiple applications

Centralised policy management delivers the right identity attributes to internal or external applications (GDPR)
Branding support
Completely brandable solution without any extra development / coding

Configurable interfaces for branded SSO
Security & Privacy
Minimise identity data breach risk. Ensure you meet security and privacy regulation for B2B users, customers, consumers, citizens, partners and internal and external employees.
Identity Attribute Broker Engine
Pseudonymisation of identity

Aggregate identity attributes from various sources, i.e. user database, CRM, 3rd party APIs

Minimal attribute set supports user privacy – granular control over which attributes are sent to target applications
Multi-factor authentication (MFA)
Contextual step-up authentication

Broad support for MFA methods: bank applications, "pay" apps, passkeys, TOTP, SMS OTP, SMTP OTP, Certificates & PKI, biometrics , social identities.

Windows SSO, AD integration, SQL integration, LDAP

Biometrics
Step-up identity sources and step-up MFA
Step-up to additional MFA methods at the right time in the customer journey

Social: support for Sign in with… Apple, Facebook, LinkedIn, Google+, Github, Amazon, Yahoo, Mixi, VKontakte

Business: support for Microsoft O365, Google Apps for Business, Salesforce, Azure, Active Directory

Verified: support for Government eIDs, Bank IDs, Mobile IDs


Open standards: support for any OIDC, OAuth based identities via Authentication Adapter microservice

Build Identity Proofing & Identity Verification services into any decision workflow. Integrated Onfido support
Best practice basic credential management
Basic password policy & recovery/reset

Basic credentials (e-mail, phone number) verification
Authorisation management
Centralised authorisation policy management

Flexible authorisation policies per service

Role based access control (RBAC) and attribute-based access control

Authentication and authorisation policies can be quickly modified for one or more online applications using the administrative web interface

Zero or minimal policy development required for the connected applications
User Directory
Scalable and secure storage of identity data and attributes

Local geo-residency for identity data and attributes

Consolidate risky, overlapping identity data silos
Meet privacy and security regulation
Centralised access, modification / review, transfer and deletion of PII (GDPR)

Consent collection, management and revocation (GDPR)

Centralised policies for control of identity attribute release (GDPR)

Strong Customer Authentication (PSD2)

Extensive standards support: SAML Security Assertion Markup Language, OpenID Connect OIDC, OAuth, Mobile Connect, ADFS 2 & 3 (WS-Federation), TUPAS
Data Residency
Client-defined data geo-residency location for IDaaS

Local network data residency for Identity Server (software)
Hybrid approach supported – local data store connecting to IDaaS capabilities
Business Transformation Impact
Use digital identity to improve your organisation's productivity, automate repetitive tasks and create self-service experiences for customers, partners, and suppliers.
Flexible deployment
IDaaS – Identity-as-a-Service with identity data and IAM functions managed in the cloud
Identity Server – on-premises software deployment with complete control over data residency
Hybrid CIAM – cloud-based IDaaS capabilities operate as SaaS, but connect to on-premises user directories and legacy applications
Delegated Authority – multi-tier identity relationship management and delegation of authority
Core scaling feature requirement for B2B, B2C and B2B2C IAM requirements
Allow external users to manage their own organisation's (or family) user identities and delegate roles at a national scale (G2B, G2C)


Create new organisations, new users, invite external parties, authorise employees and more

Minimise the amount of outdated or incorrect customer data through self-management

Cost savings achieved in customer service operations by delivering self-service workflows for your external users
Right to Represent
Connect to and check company identity and mandated rights of individuals to represent their company in real time

Build into KYC (Know Your Customers) or onboarding workflows

Based on Legal Entity Identifiers (LEI) issued by Ubisecure as the #1 accredited GLEIF LEI Issuer
Self-service identity management
Self-service password management, reset, recovery and verification (SSPR)

Verification of email and phone number during registration

Self-service functions for authentication method management
Identity profile management
Link LDAP and SQL databases for a centralised view of customer data

Eliminating risky and expensive overlapping identity repositories and silos

Reduce the number of accounts / identities per user
Extensive SSO support for existing cloud applications
Enable SSO to cloud applications

Enable strong authentication for business critical cloud applications using any supported authentication methods
CRM integration/linking
IAM database master of identities, CRM master of contract information

Automate linking of customer identities to the CRM contract lifecycle

Increase efficiency in on-boarding by sending invitations directly from the CRM interface

Improve the accuracy of customer data and increase sales and marketing efficiency

CRM applications such as Salesforce.com and Microsoft Dynamics integrated via API
APIs & application integration
Quick application integration for WebSSO protocols such as SAML, OpenID Connect and WS-Federation

Other integration options: HTTP header injection (possible to also emulate SiteMinder, WebSeal, SelectAccess, etc.), HTTP basic emulation, Kerberos constrained delegation (requires TMG or Citrix Netscaler), IIS 6 impersonation (S4U impersonation)

RESTful APIs to embed identity management functions to own applications

SAML Attribute Query supports user attribute verification during a valid session
Out of the box and customisable workflows
Create your own workflows through simple configuration — no scripting or programming needed

Configure multiple workflows based on use case or business requirements

Automate workflows or approval processes

APIs to embed identity management functions into applications
Streamlined reporting and support for 3rd party enterprise tools
Simple BI integration

Exports to SIEM platforms

Provisioning through any ESB