Customer IAM for the Utilities sector
B2C and B2B Identity and Access Management for critical infrastructure service providers.
WHITE PAPER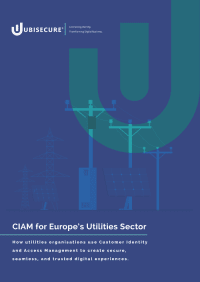 Europe's Utilities Sector
How utilities organisations use CIAM to create secure, seamless, and trusted digital experiences.
CASE STUDY
Leading national energy company – cloud-based identity solution
This energy company is responsible for critical infrastructure, serving close to a million customers. It required a cloud CIAM solution (private cloud Identity-as-a-Service/IDaaS) to support its online service's end users and also its B2B partners. Ubisecure deployed its Identity Platform to enable the strong initial and ongoing authentication of user identities, with one identity and a seamless experience across their website and mobile app. Capabilities deployed included single sign-on (SSO), self-service account management and strong authentication using identity providers.

CASE STUDY
Large energy company – SSO and Delegated Authority
This energy company serves more than 450,000 customers, including corporate and private customers. With Ubisecure CIAM, the company consolidated its various services with one login for access to all authorised services (SSO). Customers with both roles – corporate and private – still use only one set of credentials to access both accounts. Authentication with BankID is enabled for identity verification, and users can self-register and manage their own accounts. Delegated Authority enables the delegation of access to, and authority within, accounts for B2B customers.

CIAM pillars: security, regulatory compliance, customer experience, operational efficiency.

Increase security
Utilities organisations collect, process and store vast amounts of identity data. Keeping this data secure is imperative to your brand's reputation, and to avoiding non-regulatory fines and admin.
CIAM helps you avoid a data breach by ensuring that users accessing your service are who they say they are, and that they have access to only the right resources. Embed capabilities like strong authentication, multi-factor authentication (MFA) and Delegated Authority to ensure tight control and visibility over access to your data and services.

Delight customers and partners
The utilities sector has so far been comparatively slow to leverage digital transformation. This creates a significant opportunity for digital-first players to stand out from the crowd with competitive user experiences.
Employ a flexible CIAM solution to facilitate journeys for a variety of user types – customers, in-house staff, remote workers, third-party contractors and business partners – with simplified registration and login, single sign-on (SSO) and self-service account management.

Streamline operations
Remove unnecessary time (and therefore cost) intensive manual processes by moving to automated digital workflows. CIAM helps you give users more control over their own identities within defined boundaries, including delegating access and authority to organisational accounts.
CIAM reduces the amount of identities you need to manage with Bring Your Own Identity and SSO. Consolidate identity silos by integrating systems, meaning much less time spent managing and maintaining disparate data sources.
CIAM for Europe's Utilities Sector
How utilities organisations use CIAM to create secure, seamless, and trusted digital experiences.